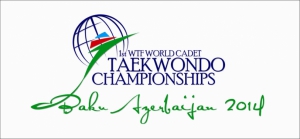 Chelsea Hobday has just returned from the 1st Word Cadet Taekwondo Championships in Baku Azerbaijan.
The inaugural cadet championships, which are for the youth aged between 12 and 14, had 578 athletes and 286 officials from 63 countries.
Chelsea was one of 2 Australian girls which made it though to the Quarter finals and narrowly missed out on a medal.  With only seconds to go, Chelsea appeared to score with a kick to the head of the French girl.  That would have put the score 14-12 in Chelsea's favour.  After a video replay, the kick was too close to call and the initial decision was upheld.  Some would argue that if the kick had have scored and the other side protested, then the point would have remained.
Chelsea is now in training for the Australian Open in Sydney on 16 & 17 August.
To view both of Chelsea's fights you can go to the following links.