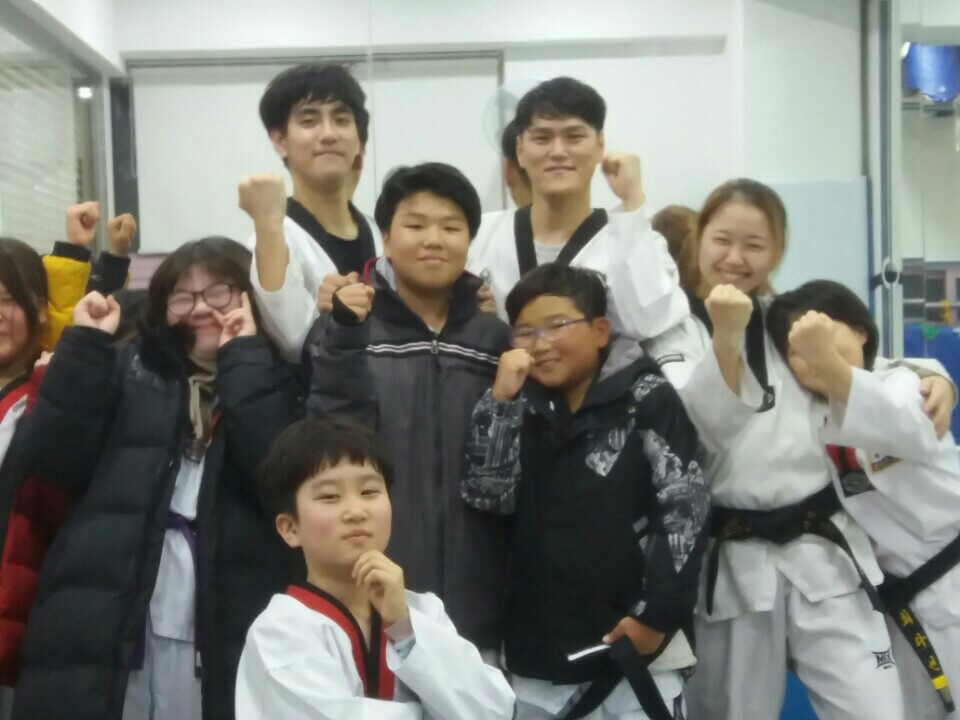 Jun Suh Seo has been learning Taekwondo in Brisbane Australia.  Here Jun Suh (middle) is picture in Korea training over the Christmas period with students from the local Taekwondo dojang.
Receiving a black belt means a lot to me as it finally shows that I'm responsible enough to be one. It also shows that I have trained hard until this point which makes me proud of myself. My parents would be very proud especially my dad as he is already 3rd Dan! The black belt will represent that I have spirit and the will to train.
After about 3 years of training I think I have finally reached my full potential and improved my self-confidence. My balance and techniques have improved massively and I thank Grand Master Tan for teaching me well.
I look up to my father and also hope that I will be like him one day… 3rd Dan. When I started taekwondo, I asked dad if he did taekwondo at all and he said he did. He said that he was 2nd Dan. I took in those words and trained hard to reach my goal for the moment; to achieve black belt at the least.
Some of the responsibilities I feel are what a black belt needs to represent are helping other students, instructing and teaching the children on their path to black belt as best as I can. I assure you that I will be the nicest, most polite and understandable person for people that need their questions answered.
Becoming a black belt would also mean that I have finally reached the level of where some of my friends are. Tristian is a great friend and I look up to him greatly as he helps me a lot. Alex is also a good friend that I always talk to and reach out for help sometimes. Finally, Samuel and Kai are also friends who have just achieved black belt giving me the self-confidence and helping each other along this journey.
I think what made this journey a bit easier is that I had dad right beside me to help me and train with me.  He would train and practice with me before grading's and help me memorise the terminology. He would help me practice breaking boards and always encouraged me to KIAP!
Domenic is especially proud of me and that makes me happy. I think that receiving a black belt has made everyone's expectations of me higher and I think I also earned a little more respect.
Taekwondo has helped me in many other different ways too. It has improved my flexibility, endurance, strength, hand-eye coordination and perseverance. This helps me I sport and helps me when running around at school, letting me run for much longer.
Taekwondo is a very fun activity and proven to also help me in many different aspects. I learned many things and hope to learn more. Becoming a black belt is a great achievement and greatly helps me for the broad world and life ahead.